Sleep, Memory and Dreams: Putting it all together
It's no secret that without a good night's sleep we feel mentally sluggish. But what does our brain do while we sleep? Is there a scientific reason we dream? Dr. Robert Stickgold will explore why dreaming and sleep are key to retaining, strengthening and processing new memories and skills.
Robert Stickgold, Ph.D.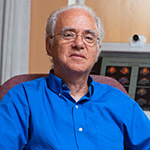 Dr. Stickgold is an associate professor of psychiatry at Beth Israel Deaconess Medical Center and Harvard Medical School. He received his bachelor's degree from Harvard University and his doctorate from the University of Wisconsin, Madison, both in biochemistry. He has published over 100 scientific publications, including papers in Science, Nature, JAMA and Nature Neuroscience. He has also spoken multiple times at the Boston Museum of Science and at Amsterdam's NEMO science center.
His current work looks at the nature and function of sleep and dreams from a cognitive neuroscience perspective, with an emphasis on the role of sleep and dreams in memory consolidation and integration, and how defects in these processes contribute to psychiatric disorders, including PTSD and schizophrenia. His work is funded by the National Institute for Mental Health.
The Secret Life of the Brain
2017 OHSU Brain Awareness Lecture Series
The workings of the brain remain mysterious. Moral choices, the effects of physical touch, vivid dreams—we may not know how or why they happen, but they all can serve a purpose.
Learn more at The Secret Life of the Brain, the 2017 Brain Awareness Season lecture series presented by the OHSU Brain Institute.
Season tickets and single lecture tickets are available for the series.
MARCH 20
The Criminal Brain
Octavio Choi, M.D., Ph.D.
MARCH 27
Touch: The Science of Hand, Heart and Mind
David Linden, Ph.D.
APRIL 4
Sleep, Memory and Dreams: Putting it all Together
Robert Stickgold, Ph.D.
Newmark Theatre :

Upcoming Events