Touch: The Science of Hand, Heart and Mind
Dual-function receptors in our skin make mint cool and chili peppers hot. Without the brain's dedicated centers for pleasure and emotional touch, an orgasm would feel more like a sneeze—convulsive, but not especially nice. Dr. David Linden, New York Times-best-selling author of The Compass of Pleasure, delves into how the organization of our body's touch circuits is a complex and often counterintuitive system that affects everything from social interactions to general health and development.
David Linden, Ph.D.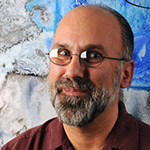 Dr. Linden is a professor in the Department of Neuroscience at the Johns Hopkins University School of Medicine. His laboratory has worked for many years on topics including cellular substrates of memory storage and recovery of function after brain injury. He has a longstanding interest in scientific communication and served for many years as the chief editor of the Journal of Neurophysiology. He is the author of three bestselling books on the biology of behavior for a general audience: The Accidental Mind (2007) and The Compass of Pleasure (2011) which, to date, have been translated into 19 languages. His most recent book, Touch: The Science of Hand, Heart and Mind (2015) was published by Viking Press (USA/Canada).
The Secret Life of the Brain
2017 OHSU Brain Awareness Lecture Series
The workings of the brain remain mysterious. Moral choices, the effects of physical touch, vivid dreams—we may not know how or why they happen, but they all can serve a purpose.
Learn more at The Secret Life of the Brain, the 2017 Brain Awareness Season lecture series presented by the OHSU Brain Institute.
Season tickets and single lecture tickets are available for the series.
MARCH 20
The Criminal Brain
Octavio Choi, M.D., Ph.D.
MARCH 27
Touch: The Science of Hand, Heart and Mind
David Linden, Ph.D.
APRIL 4
Sleep, Memory and Dreams: Putting it all Together
Robert Stickgold, Ph.D.
Newmark Theatre :

Upcoming Events