Seasons Greetings from Tuna, Texas! Back by popular demand, Oregon Repertory Theatre presents the fun and entertaining A Tuna Christmas – the hilarious sequel to the hit comedy, Greater Tuna, by Jaston Williams, Joe Sears, and Ed Howard. It is sure to be a smash hit!
Come spend the holidays with all your old favorite citizens of Tuna, and make some new friends while you're there. Master comedians Jeffrey Jason Gilpin and Alan King, along with some split-second costume changes, portray all 22 citizens of Texas' third smallest town, where the Lion's Club is too liberal and Patsy Cline never dies.
This time, it's 24 hours before Christmas and all comic hell is about to break loose as the delightfully eccentric characters attempt to cope with seasonal traumas such as a disaster prone little theatre production of A Christmas Carol, and a yard display contest that is being sabotaged by a mysterious Christmas phantom! Bring the whole family and join in the holiday fun!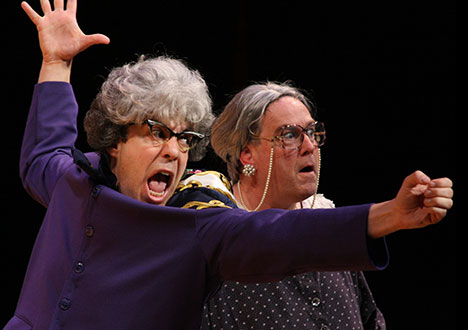 Collaborating with the region's finest, award-winning theatre artists, Oregon Repertory Theatre is committed to creating beauty and laughter in our community. The company is comprised of several Drammy-award winners and graduates of prestigious theatre conservatories from around the globe.
For ages 8 & up. Adults and kids will have a great time!
Tickets
$40.00 - Tier 1 Section B & Tier 2 Section B
$32.50 - Tier 3 Section B & Tier 1 Sections A & C
$27.50 - Tier 2 Sections A & C & Tier 3 Sections A & C
$20.00 - Limited view seats
*Service charges apply.
Groups of 8 or more get a 10% discount on tickets.
Arts for All Tickets
$5 Arts For All tickets are available to Oregon Trail Card holders two hours prior to curtain at the Portland'5 Box Office for select performances and seats. Arts For All tickets are available for all seats for the December 8–11 performances and only in Tier 3 for the December 13–15 performances.
Winningstad Theatre :

Upcoming Events