Beth Kerschen, Shawn Demarest & Bill Sharp
"Surroundings" - A three person exhibit of oil paintings and prints exploring Portland surroundings. Beth Kerschen, Shawn Demarest and Bill Sharp are three long time Portland artists who've been observing and including their local surroundings in their work for many years. They each have a different approach to the subject matter.
Beth's work is organically created through her own captured photography and what fits together naturally in a photomontage, but it is highly precise using the detail of photography and relying on the juxtaposition of images and landmarks to create a sense of place reflecting on our urban life and culture.
Shawn leverages photography to guide her paintings, but once on canvas, builds her own interpretation, memories, and impression of the scene by using layers and layers of oil paint and glazes to provide heightened awareness and impression of a moment in time in the city.
Bill spends time drawing and painting on site, grasping more intimate, and personal moments in daily life - then, in the studio references the sketches to make works that grasp the experience of place with more immediacy.
All provide a strong sense of place of our surroundings from a cityscape perspective, to the street level feeling the rain on our feet, down to the comfortable feeling of sitting and contemplating our own front yard or living-room.
Join us for a free opening reception on Thursday, December 6th from 5pm to 8pm.
Surroundings will be on display in the Antoinette Hatfield Hall lobby through January 29th—open Monday through Saturday, 10am to 5pm, and during events.
Artwork purchase inquiries: jeanniebaker@portland5.com / 503-274-6556.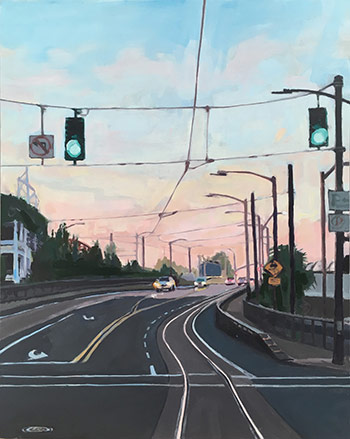 Shawn Demarest, Broadway Bridge Approach, oil on panel, 20"x16"
Shawn Demarest studied painting at the University of Colorado and The Cleveland Institute of Art's Lacoste program. Her foundation is working from observation. Ten years ago her desire to paint scenes of wet Portland streets led to studio painting using reference photographs. Demarest's paintings continue to reflect her surroundings and sometimes dive into fantastical territory incorporating overlaid lines and magical realism. Shawn has received RACC Project Grants and residencies including Playa, Mojave National Preserve, and The Helene Wurlitzer Foundation. She has work in OHSU, PCC Southeast, RACC's small works collection, and the Rivereast Building. Demarest is represented by Waterstone Gallery and SAM Gallery.
shawndemarest.com
instagram.com/shawndemarest
facebook.com/ShawnDemarestFineArt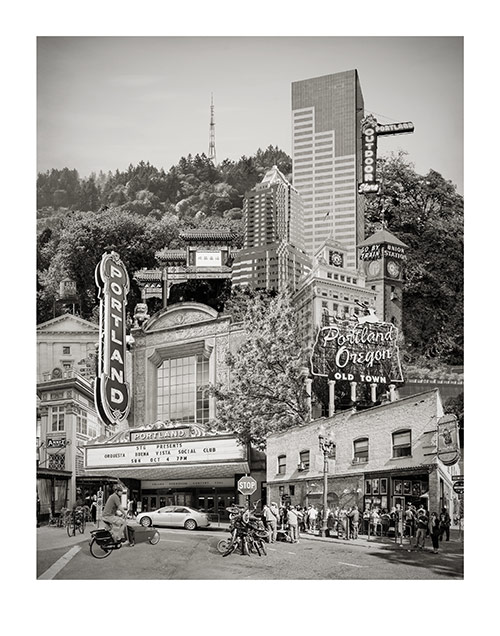 Beth Kerschen, photomontage, Westside Portland Landmarks
Beth Kerschen is a multi-disciplinary artist using photography and graphic design to express a unique vision. After receiving a Bachelor of Fine Arts degree from Colorado College, Kerschen moved to Boston, MA to work for Polaroid and several graphic design firms. Since moving to Portland in 2008, she has committed to using her combined skills to capture vast urban landscapes into one tangible image. Using the process of photomontage, Kerschen's work envision the spatial, cultural, and historical connections our cities provide. She was awarded a Professional Development Grant from RACC ('15) and a public art installation commission at the Portland International Airport ('16). Her work has been held in a number of corporate and city collections, including two terms in the Mayor's office (Visual Chronicle Council Collection), as several hand-painted murals for a luxury residence by ConAm, and as large format artwork in the new JupiterNEXT Hotel guest rooms.
bethkerschen.com
instagram.com/bethkerschen
facebook.com/bethkerschenart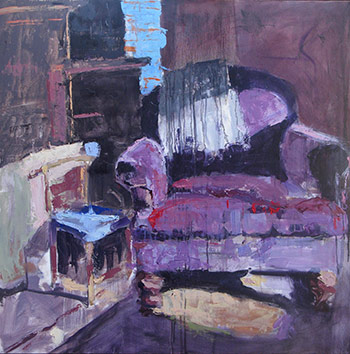 Bill Sharp, Velvet Chair, oil on panel, 36"x36"
Bill Sharp studied painting at the University of Delaware and the Maryland Institute College of Art and has also studied with several well known painters, including Israel Hershberg, Vincent Desiderio, Susan Jane Walp.
Bill has lived in Portland for 37 years and has shown in various venues in the Pacific NW and beyond including: Prince Street Gallery, New York, NY, Prographica/KDR, Seattle, WA, Brian Marki Fine Art, Portland, OR. He has also completed 2 month long artist residencies at the Jerusalem Studio School Summer Program in Civita Castellana, Italy.
The experience of caring for his late wife and seeing her through the end of her life had a profound effect on Bill's experience of his surroundings. He looks at things now without the desire of making sense of them but rather tries to paint through the subject to what it is that drew him to it, what made him want to attach to it and thereby to life.
billsharppaintings.com
billsharp.wordpress.com
instagram.com/bhsharp
facebook.com/bill.sharp.58555