Nowhere to Hide: Pitch-black Humor
Ryan Chapman, Chuck Klosterman, Kimberly King Parsons, Sarah Rothenfluch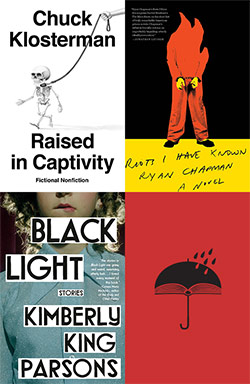 In Ryan Chapman's Riots I Have Known, an unnamed Sri Lankan inmate barricades himself inside the prison computer lab while a riot rages outside, incited by a poem published in the prison literary journal that he edits. As he awaits inevitable violence, he is determined to share his life story. Chuck Klosterman's Raised in Captivity one of the most original and exciting story collections in recent memory, a fever graph of our deepest unvoiced hopes, fears and preoccupations. Ceaselessly inventive, hostile to corniness in all its forms, and mean only to the things that really deserve it. And Kimberly King Parsons's debut story collection, Black Light, was praised as "grimy and weird, surprising, utterly lush" by Carmen Maria Machado. The stories in Black Light are enormously perceptive and brutally unsentimental on everything from first love to addiction. Moderated by Sarah Rothenfluch.
Advance Portland Book Festival passes available now.
Brunish Theatre :

Upcoming Events

Metropolitan Performing Arts presents the stage adaptation of A Charlie Brown Christmas in the Portland'5...
Showing:
12/13

-

12/22

Portland Revels presents Haddon Holiday, a mini-Christmas Revels for children, at the Portland'5 Brunish...
Showing:
12/27

-

12/28