Anxiety and Learning Problems: Could It Be the Fats You Eat?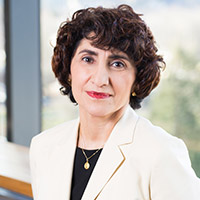 Bita Moghaddam, Ph.D.
Ruth Matarazzo Professor and Chair, Department of Behavioral Neuroscience, OHSU Brain Institute
An essential nutrient our brains need for developing and maintaining our mental muscle and moods has been systematically removed from the modern diet – for convenience and "health food." Without it, we can't think, focus or control ourselves as well. Find out how brain food matters in youth and in age.
OHSU BRAIN AWARENESS LECTURE SEASON 2018
Nourishing Your Neurons
How you fuel your brain creates pivotal changes
What are the ingredients we need to maximize our brains' potential? This year, our lecture series explores the critical influence nourishing the brain has on our daily abilities, from academic performance to good decision-making. Join us as top researchers in neuroscience discuss the brain's complex biology and the profound impact choosing the right – or wrong – fuels has on behavior.
All lectures start at 7pm at the Newmark Theatre, inside Antoinette Hatfield Hall at 1111 S.W. Broadway Ave, Portland.
To learn more, visit www.ohsubrain.com/bas.
OHSU Brain Institute is a national leader in neuroscience patient care, research and education. We provide the most comprehensive care of neurological illness in the Pacific Northwest. Our nationally recognized neurological programs and centers offer comprehensive clinical and surgical services that are available nowhere else in Oregon.
Series subscriptions and single lecture tickets are available for the 2018 OHSU Brain Awareness Lecture Series.
Newmark Theatre :

Upcoming Events