National Geographic Live - Into the Arctic Kingdom
Florian Schulz, Photographer
His multi-year quest to document the Arctic took photographer Florian Schulz to the ends of the Earth. He camped for weeks in jarring winter conditions, accompanied traditional Inuit hunters and sailed the arctic waters, all to get an intimate look at life in the Arctic. There, he tracked families of polar bears, followed the vast caribou herds, and captured the Northern Lights in stunning detail. Through breathtaking imagery, the National Geographic photographer takes audiences on a legendary journey into the Arctic kingdom—with a special focus on the Arctic Refuge, one of the world's last great wildernesses.
This presentation is part of the 2018/19 National Geographic Live Series.
SERIES SUBSCRIPTIONS & TICKETS
Single lecture tickets ($27.25–$52.25 plus fees) are available now. Series subscriptions ($136.25–$241.25 plus a one-time $24.00 order fee) are no longer available for 2018/19.
Tickets are also available at the Portland'5 Box Office, TicketsWest outlets or by phone: 800.273.1530.
ABOUT FLORIAN SCHULZ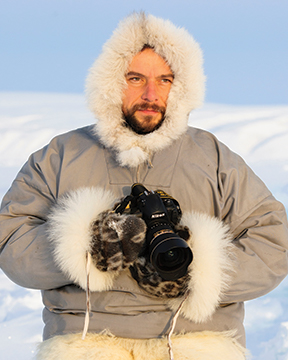 Florian Schulz has dedicated his life to documenting the natural faces of our planet. Aiming his cameras at Earth's last wilderness areas has led him to the farthest reaches of the globe. Using his talent for visual storytelling he hopes to inspire action to preserve Earth's wild virtue. He is constantly striving to meet the next challenge, to embark upon the next adventure. Ultimately seeking to transport his viewers into nature, acting as an ambassador for the natural world.
Specializing in wildlife and conservation photojournalism, the quality of Florian's work is reflected in the widespread recognition he has received. His photographs have been published in magazines such as National Geographic, BBC Wildlife, and GEO, and he has won numerous awards for his photography, including 'Environmental Photographer of the Year'. But these prizes have never been his motivation. His tireless efforts to document and protect wilderness areas are fueled by an honest commitment to our environment and a love for the natural world.  
Florian is a devout advocate for wildlife corridors, coining the phrase "freedom to roam" and founding the Freedom to Roam project. He aims to expand the new conservation movement for wildlife corridors, just like the creation of Yellowstone as the first national park – he envisions the establishment of national corridors as an idea to spread around the world.
In recent years, Florian has devoted his focused on the Arctic – as it is one of the fastest changing and threatened ecosystems on Earth. His determination to portray this land and its diversity of creatures has drawn him through many challenges, hardships and dangers. What does it take to spend weeks camping in sub-arctic conditions? Or to lug camera equipment for miles through black swarms of monster mosquitos? To leave your family with two little boys for months on end? As a father his work has taken on a new meaning. He hopes that his images can play a role in keeping the last wild places alive, for the next generation to experience.
Newmark Theatre :

Upcoming Events