National Geographic Live - Social by Nature
Ronan Donovan, Photographer
What's a human? We are, at our core, social mammals. We build relationships, communicate, reproduce, establish territories, and adapt to shrinking resources. In these ways, we're no different than other social mammals. Chimpanzees, wolves, gorillas, and bears are among the most charismatic of the social mammals we know. We identify with them as species, groups, and even as named individuals. They're also under threat. Join biologist turned photographer Ronan Donovan as he talks about his work in documenting these animals and what we, as fellow social mammals, can learn from them.
This presentation is part of the 2018/19 National Geographic Live Series and the 2018-19 Portland'5 Education Program season.
SERIES SUBSCRIPTIONS & TICKETS
Series subscriptions ($136.25–$241.25 plus a one-time $24.00 order fee) and single lecture tickets ($27.25–$52.25 plus fees) are on sale now. Avoid the service charges on single lecture tickets and purchase a series subscription!
Series subscriptions and tickets are also available at the Portland'5 Box Office, TicketsWest outlets or by phone: 800.273.1530.
ABOUT RONAN DONOVAN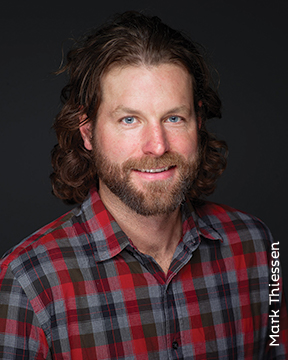 National Geographic Explorer Ronan Donovan's love of the natural world was born, as he was, in rural Vermont. Now a biologist turned wildlife photographer and filmmaker, Ronan has worked on all seven continents, with experiences ranging from documenting wild chimpanzees in Uganda to chronicling the life of one of Yellowstone's iconic species, the gray wolf, for the May 2016 Yellowstone issue of National Geographic​ magazine​.​ Ronan's most recent, and soon-to-be-published, story for National Geographic focuses on the legacy of primatologist Dian Fossey and the conservation status of mountain gorillas in Volcanoes National Park, Rwanda.​ Ronan is a two-time finalist for Wildlife Photographer of the Year and one of PDN's 30 New and Emerging Photographers to Watch in 2017​;​ his film work has aired on PBS's Nature​ and on the BBC​.
Newmark Theatre :

Upcoming Events