National Geographic Live - Standing at the Water's Edge
Cristina Mittermeier, Marine Biologist & Photographer
Photojournalist Cristina Mittermeier knows the power of water: the power to give life when it is respected, and the power to destroy when it is misused. During her time with the Kayapó people in the Amazon, she documented a society that relied on their local waterway to survive—and found their way of life threatened by a massive new dam. In British Columbia, she found First Nations protecting their sacred headwaters, and in Hawaii, a new community of indigenous peoples seeking to reclaim their connection to the sea. She learned that one concept bound these three disparate communities together: "Enoughness," or taking only that which you need.
This presentation is part of the 2018/19 National Geographic Live Series and the 2018-19 Portland'5 Education Program season.
*This presentation replaces the originally scheduled National Geographic Live – A Planet to Call Home (with planetary geologist Ellen Stofan) at the Newmark Theatre on Tuesday, April 2, 2019 at 7:30pm.
SERIES SUBSCRIPTIONS & TICKETS
Single lecture tickets ($27.25–$52.25 plus fees) are available now. Series subscriptions ($136.25–$241.25 plus a one-time $24.00 order fee) are no longer available for 2018/19.
Tickets are also available at the Portland'5 Box Office, TicketsWest outlets or by phone: 800.273.1530.
ABOUT CRISTINA MITTERMEIER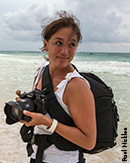 Cristina is a Mexican-born marine biologist and photographer specializing in conservation issues surrounding the ocean and indigenous cultures. As a writer and a photographer for the past 25 years, her work centers on the delicate balance between human well-being and healthy ecosystems. Cristina has edited 24 coffee-table books on conservation issues and her work has been published in prestigious publications including Science and Nature. She is one of Sony's Artisans of Imagery, was recently recognized as one of the World's top 40 Most Influential Outdoor Photographers by Outdoor Magazine, is a past recipient of the Nature's Best/Smithsonian Conservation Photographer of the Year award and the North American Nature Photographer's Association Mission Award. Cristina President and Co-founder of SeaLegacy.
Newmark Theatre :

Upcoming Events