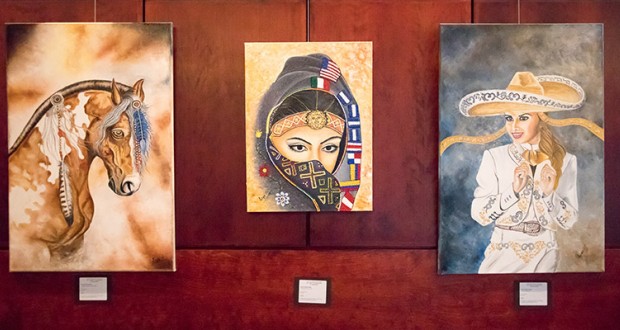 LAX IdeAL presents their fourth annual exhibition and reception of visual artists of the Latino Artists Exchange in the Northwest (LAX-IdeAL) at the Portland'5 Antoinette Hatfield Hall (and on Main Street) on Sunday, October 15, 2017 from 2pm-5:30pm. This event is free and open to the public.
In addition to the exhibition and reception, LAX IdeAL is offering free artist workshops (with advance registration) from 2pm-4pm.
Huichol Traditional Yarn Painting with Nelda Reyes
Day of the Dead Niches with Nelda Reyes
Poetry Creation & Practice with German Rizo
LAX IdeAL will also hold their first exchange festival, El Trueque (the barter), where you will have the opportunity to acquire valuable works of art and meet the artists participating in this exhibition. The band PASSIONFRUIT will add their Latin and Caribbean music to the festivities from 4:30pm-5:30pm.
The artist workshops run from 2pm-4pm.
The LAX-IdeAL exhibition reception begins at 4pm.
Passionfruit plays from 4:30pm-5:30pm.
The LAX-IdeAL art exhibition will be on display inside Antoinette Hatfield Hall through October.
Antoinette Hatfield Hall is located at 1111 SW Broadway Ave. (at Main Street), Portland, Oregon, 97205.