DRUM TAO 2020 - Cancelled
Drum Tao 2020 at the Portland'5 Keller Auditorium on Thursday, April 23, 2020 is cancelled.
All tickets paid for via credit card online, by phone or at the Portland'5 Box Office will be automatically refunded. All tickets purchased at a TicketsWest outlet must be returned to point of purchase for a refund.  To request a refund for tickets paid for with cash or check at the Portland'5 Box Office, please contact the Portland'5 box office at 503.248.4335 or email info@portland5.com. Refunds may take up to two weeks to be processed.
Please note: refunds are only available for tickets purchased directly through Portland'5 / TicketsWest.  Portland'5 is not responsible for the refund practices put in place by ticket resellers.
---
More than 800 million spectators across the world have been touched by DRUM TAO.
DRUM TAO's stage is created through phenomenal performances and expressions consisting of incomparable "Wadaiko-drums" and the beautiful mesmerizing melody of Japanese flutes and harps. It is the "Japanese Entertainment" for a new generation that completely surpasses expectations.
In February 2016, their Off-Broadway show in New York ended up with great success! It was featured in the weekly American magazine, Newsweek stating "The highly acclaimed debut of DRUM TAO on Broadway will represent not only Japanese entertainment but Japan itself".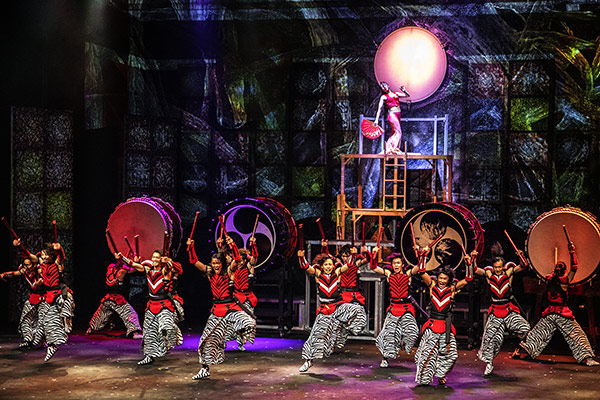 Their new long-run production "MANGEKYO" started in Tokyo in 2017. This nightly entertainment aimed at international tourists became widely popular and was later expanded to shows over six months in 2018. It has been announced that this will be performed in their exclusive theater from April 2019 through the Tokyo Olympics.
In 2017, they made their major recording debut from UNIVERSAL MUSIC as a compilation of their work for 25 years, which ranked as one of the top three in the iTunes World Album Ranking in five different countries.
In 2018, they performed in the opening ceremony of "Japonism 2018" in Paris, France. They also costarred with the Bolshoi Ballet as the opening act of "Japan Year in Russia" held at The Bolshoi Theatre in Moscow, Russia, in front of the head of each country.
They appeared on the most renowned Japanese music program, "The 69th NHK Kohaku Utagassen" in 2018.
They were awarded "Outstanding Cultural Contribution" from Oita prefecture, "Culture Creators Award" from Taketa city in Oita prefecture, and "The 6th Japan Tourism Agency Commissioner Award" and "Minister for Internal Affairs and Communications Award" from the Japanese government.
Currently, they perform 700 shows yearly as three teams; Team A, Team K, and Team S.
Keller Auditorium :

Upcoming Events