National Geographic Live—Akashinga: The Brave Ones
Be inspired by the incredible story of Akashinga—Zimbabwe's first all-female ranger unit protecting Africa's wildlife from poachers—and meet its founder Damien Mander and squad leader Vimbai Kumire.
"If you do something wrong to my animals, I will catch you." —Vimbai Kumire
Damien Mander spent his early 20s in the Royal Australian Navy, risking his life to protect others—first as a Naval clearance diver, then as a special operations sniper in an elite hostage recovery unit. By 2009, burned out after three years in Iraq, he bought a one-way ticket to Africa for his next mission: applying military solutions to the fight against poachers. Instead, he found himself forming the first all-female ranger unit in Zimbabwe: Akashinga ("the brave ones").
The recruits were survivors of domestic violence, single mothers, abandoned wives, and AIDS orphans. One remarkable recruit—Vimbai Kumire—grew up in poverty in rural Zimbabwe, where she was the youngest of eight children and dreamed of securing a better future for herself. Over the course of her time in the unit, she displayed such grit, discipline, and leadership that she was promoted to Sergeant and Squad Leader of Akashinga Ranger Team One.
Join Mander and Kumire as they share how their unique personal journeys converged in pursuit of a common goal—protecting Africa's wildlife for future generations.
This presentation is part of the National Geographic Live 2019/20 Portland Speaker Series.
Series Subscriptions & Tickets
Individual tickets ($32.25–$52.25 plus fees) are available now. Series subscriptions to all five presentations ($136.25–$241.25 plus a one-time order fee) are no longer available for 2019/20.
Tickets are also available at the Portland'5 Box Office at 1111 SW Broadway Ave. and by phone: 800.273.1530.
Damien Mander, Conservationist & Vimbai Kumire, Ranger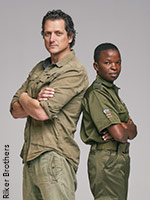 Damien Mander served as a Clearance Diver and Special Operations Sniper in the Australian Defense Force. While later deployed in Iraq, he went on to project manage the Iraq Special Police Training Academy, preparing Iraq's paramilitary forces for the frontlines. Following three years in Iraq, Damien departed the Australian Defense Force in 2008 with no direction in life.
While traveling through Africa in 2009, he was awakened to the horrors facing the natural world—in particular, the criminal networks threatening the survival of rhinos and elephants. He liquidated all of his personal assets to form the International Anti-Poaching Foundation (IAPF), a direct-action conservation organization to be used as a tactical instrument in targeting wildlife crime.
IAPF's conservation strategy has evolved over time. The organization started out by delivering basic and intermediate training to rangers in the field, but soon switched to more holistic strategies in order to achieve lasting change. The organization built large operations with a direct action focus that achieved their objectives, but something was still missing. In 2017, IAPF began taking a more community-focused approach to law enforcement in conservation—a strategy that has proven enormously successful.
With the likes of Dr. Jane Goodall as its patron, today IAPF has an operational presence in four countries, runs three major campaigns, and has supported or led more than 45 other conservation programs. The rangers that IAPF has trained protect over five million acres of wilderness every day in Africa.  
In 2019, Damien was awarded the Windsome Constance Kindness Gold Medal, a prestigious international recognition for services to animals and humanity. 
Damien resides in Zimbabwe and spends the majority of his year in Africa.
In 2017 Vimbai Kumire heard that the IAPF was recruiting women to be rangers. With her brother's encouragement she applied and was deployed as a ranger in the pioneering Akashinga team. Since becoming a ranger, she has consistently demonstrated her grit, discipline and leadership, resulting in her promotion to Sergeant and Squad Leader of Akashinga Ranger Team One. As a single mother of two, she can now afford a home, support her mother and send her children to school.
"If you do something wrong to my animals, I will catch you." —Vimbai Kumire
In the News:
​Why Zimbabwe's female rangers are better at stopping poaching (National Geographic, June 2019)
Akashinga: The female fighters taking on illegal poachers, and the Australian training them (ABC News, October 2018)
Meet the 'Brave Ones': The women saving Africa's wildlife (BBC, September 2018)
Rhino Wars (National Geographic, March 2012)
About National Geographic Live:
As audiences around the world have discovered, National Geographic Live events are lavishly illustrated, firsthand presentations by dynamic individuals who travel the world to get the powerful stories and images you've seen on the National Geographic Channel and in National Geographic magazine.
National Geographic Live is the live events division of National Geographic. With a broad roster of talent including renowned photographers, scientists, authors, filmmakers and adventurers, National Geographic Live's critically acclaimed programs have connected with audiences worldwide for over a century. Currently, National Geographic Live events are held in a variety of cities around the world, including Seattle, Tampa, Los Angeles, and Calgary. In each of these cities, speakers share behind-the-scenes stories from the front lines of exploration onstage alongside stunning imagery and gripping footage. For more information, visit natgeolive.com.
Newmark Theatre :

Upcoming Events