National Geographic Live—Designed By Nature
A former member of the U.S. International Figure Skating Team, bioengineer Kakani Katija now studies the graceful movements of life below the surface. Join her for a fascinating look at one of the least explored ecosystems on our planet—the ocean's midwaters—and learn how its inhabitants could lead to breakthroughs in bio-inspired design.
Designers and engineers have drawn inspiration from our natural world for decades, creating innovations as groundbreaking as manned flight, and Katija's own early work has led to energy efficient jellyfish-inspired robotics. Now, she studies little-known sea creatures that have the potential to make a big impact on some of our world's most critical problems. As a certified research diver, Katija conducts field studies around the world, gathering data to help her develop technologies for exploring this ocean twilight zone and imagining—and creating—possibilities for the future.
This presentation is part of the National Geographic Live 2019/20 Portland Speaker Series.
Series Subscriptions & Tickets
Individual tickets ($32.25–$52.25 plus fees) are available now. Series subscriptions to all five presentations ($136.25–$241.25 plus a one-time order fee) are no longer available for 2019/20.
Tickets are also available at the Portland'5 Box Office at 1111 SW Broadway Ave. and by phone: 800.273.1530.
Kakani Katija, Bioengineer & Research Diver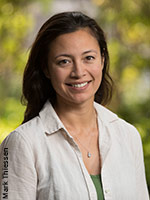 Kakani Katija received her PhD in Bioengineering at the California Institute of Technology and is dedicated to developing underwater technologies to better observe biological and physical processes where they happen in the ocean.
Her research and instrument development efforts have contributed to our understanding of nutrient cycling in the oceans, biologically induced mixing of the oceans, ecology of gelatinous and soft-bodied invertebrates in deep-sea environments, and bio-inspired design. She is currently a Principal Engineer and Principal Investigator of the Bioinspiration Lab at Monterey Bay Aquarium Research Institute, where she develops advanced imaging tools to measure biological-physical interactions, electronics tagging packages to deduce organism behavioral response to a changing environment, and autonomous underwater vehicles using stereo tracking to address a wide range of marine science questions.
A former ice dancer and member of the US International Figure Skating Team, she is an active scientific diver, conducting field expeditions in various locations around the world using technologies she has developed. Kakani was named a National Geographic Emerging Explorer in 2011 and a Kavli Research Fellow in 2013, and she has received generous funding support from the David and Lucile Packard Foundation, the Gordon and Betty Moore Foundation, National Geographic Society, and the National Science Foundation. When not in the lab/ocean, she can be found in the backcountry with her husband and dog.
About National Geographic Live:
As audiences around the world have discovered, National Geographic Live events are lavishly illustrated, firsthand presentations by dynamic individuals who travel the world to get the powerful stories and images you've seen on the National Geographic Channel and in National Geographic magazine.
National Geographic Live is the live events division of National Geographic. With a broad roster of talent including renowned photographers, scientists, authors, filmmakers and adventurers, National Geographic Live's critically acclaimed programs have connected with audiences worldwide for over a century. Currently, National Geographic Live events are held in a variety of cities around the world, including Seattle, Tampa, Los Angeles, and Calgary. In each of these cities, speakers share behind-the-scenes stories from the front lines of exploration onstage alongside stunning imagery and gripping footage. For more information, visit natgeolive.com.
Newmark Theatre :

Upcoming Events