National Geographic Live—Photography Without Borders
One of National Geographic's most celebrated female photographers shares images and stories from the globetrotting career that has taken her from Bedouin campfires to Argentinian horse whisperers. 
In the English countryside, celebrated photographer Annie Griffiths produced a witty story on the Calder Valley Mouse Club showing the art of staging a beauty pageant for rodents. In Namibia, she spent time with a tribe surviving in the Kalahari Desert despite seven years of drought. But after a career covering all of the weird and wonderful facets of humanity in more than 100 countries, she has turned her creative energies toward supporting programs that empower women and children in the developing world.
This presentation is part of the National Geographic Live 2019/20 Portland Speaker Series and the 2019/20 Portland'5 Education Program season.
Series Subscriptions & Tickets
Individual tickets ($32.25–$52.25 plus fees) are available now. Series subscriptions to all five presentations ($136.25–$241.25 plus a one-time order fee) are no longer available for 2019/20.
Tickets are also available at the Portland'5 Box Office at 1111 SW Broadway Ave. and by phone: 800.273.1530.
Annie Griffiths, Photojournalist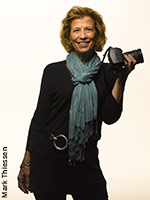 One of the first women photographers to work for National Geographic, Annie Griffiths has photographed in nearly 150 countries during her illustrious career. She has worked on dozens of magazine and book projects for National Geographic, including stories on Lawrence of Arabia, Baja California, Galilee, Petra, Sydney, New Zealand, and Jerusalem.
In addition to her magazine work, Griffiths is deeply committed to photographing for aid organizations around the world. She is the Founder and Executive Director of Ripple Effect Images, a collective of photographers who document the programs that are empowering women and girls in the developing world, especially as they deal with the devastating effects of climate change. In less than five years, Ripple's work has helped 24 non-profits raise over a million dollars.
Griffiths' work has also appeared in LIFE, Geo, Smithsonian, Fortune, Stern, and many other publications. Along with author Barbara Kingsolver, she produced Last Stand: America's Virgin Lands, a book celebrating the last pristine wilderness in North America. Proceeds from the book raised more than a quarter of a million dollars for grassroots land conservation. Griffiths is an accomplished speaker and a regular guest on NPR, The Today Show, and other media outlets.
In 2008, Griffiths published A Camera, Two Kids and a Camel, a photo memoir about balance, and the joy of creating a meaningful life.  In 2010, Annie authored the book, Simply Beautiful Photographs, which was named the top photo/art book of the year by both Amazon and Barnes and Noble. Annie is currently at work on two new books.
Annie is a Fellow with The International League of Conservation Photographers and has received awards from the National Press Photographers Association, Heifer International, the National Organization of Women, The University of Minnesota and the White House News Photographers Association.
About National Geographic Live:
As audiences around the world have discovered, National Geographic Live events are lavishly illustrated, firsthand presentations by dynamic individuals who travel the world to get the powerful stories and images you've seen on the National Geographic Channel and in National Geographic magazine.
National Geographic Live is the live events division of National Geographic. With a broad roster of talent including renowned photographers, scientists, authors, filmmakers and adventurers, National Geographic Live's critically acclaimed programs have connected with audiences worldwide for over a century. Currently, National Geographic Live events are held in a variety of cities around the world, including Seattle, Tampa, Los Angeles, and Calgary. In each of these cities, speakers share behind-the-scenes stories from the front lines of exploration onstage alongside stunning imagery and gripping footage. For more information, visit natgeolive.com.
Newmark Theatre :

Upcoming Events