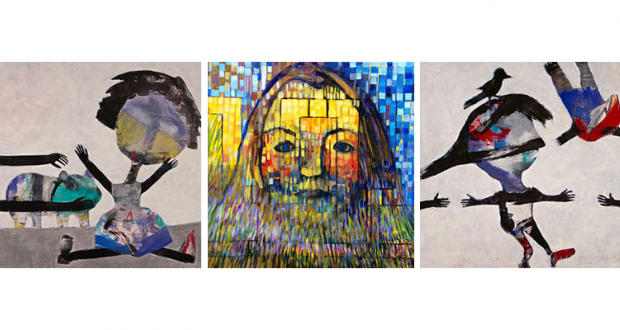 Portland'5 & the AIR Gallery present the AIR Gallery Reunion Art Show opening reception Thursday, April 6, 2017 5–8pm in Antoinette Hatfield Hall. Reunion will be on display April 6–May 31, 2017 in the Antoinette Hatfield Hall lobby.
The AIR Gallery was one of the four destination art galleries in the heart of downtown Portland. It, like the other galleries in Pioneer Place Mall, had the honor of being an experiment in blending diverse forms of artistic expression into a large retail setting. Having all closed because of needed physical changes to the mall, the seven artists of the AIR Gallery are having a reunion and will present recent works in encaustics, oils, cold wax, acrylics, and mixed media. The show offers the friends of the galleries at Pioneer Place the opportunity to travel back in time. For the first time, or once again, the community is invited to experience the creative spirit of this special event. 
Join us for the opening reception (or stop by to see the collection through May 31) in the beautiful setting of the Portland'5 Centers for the Arts Hatfield Hall.
Reunion is a stunning collection of recent work by artists Jo Grishman, Theresa Andreas-O'Leary, Leslie Wood Kamman, Linda Robertson, Fred Swan, Suzanne Vaughan, and Samyak Yamauchi.