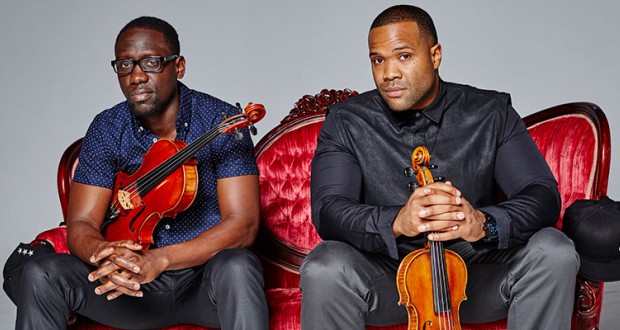 Black Violin performs with the BRAVO Youth Orchestras at the Arlene Schnitzer Concert Hall Monday, April 3, 2017 at 7:30pm.
Join the party when Black Violin brings their socially conscious, boldly unclassifiable blend of hip-hop and classical music to the Schnitz and come raise the roof at the Schnitz with the string players from BRAVO as they take the stage with Black Violin to close the show.
BRAVO Youth Orchestras transforms the lives of underserved youth through intensive orchestral music education.  Oregon Symphony Music Director Carlos Kalmar says:
"The work you are doing is amazing. BRAVO brings the best music education to where it is needed most."
Launched in 2013, BRAVO transforms the lives of underserved youth through intensive orchestral music instruction emphasizing collaboration, promoting self-confidence, and creating a community where children thrive.
BRAVO now serves over 500 students at four of Portland's poorest public schools.  BRAVO's youth musicians have performed with world-class artists including Nadja Salerno-Sonnenberg, cellist Alban Gerhardt, and the members of the Oregon Symphony. BRAVO has played for the Governor, the Mayor, the Oregon House of Representatives, and City and County Commissioners. BRAVO is inspired by El Sistema, Venezuela's revolutionary program of social change through music that started in 1975. There are now El Sistema-inspired programs in more than 55 countries around the world, and there are over 100 affiliated organizations in the US. BRAVO is the first in Oregon.
Black Violin is composed of classically trained violist and violinist Wil B. and Kev Marcus who combine their classical training and hip-hop influences to create a distinctive multi-genre sound that is often described as "classical boom." The band released their major label debut Stereotypes (featuring Black Thought of The Roots and MC Pharoahe Monch) on Universal Music which debuted at #1 on the Billboard Classical Crossover Chart and #4 on the Billboard R&B Chart. Black Violin has shared stages with top names including Kayne West, Aerosmith and Tom Petty, and has creatively collaborated with the likes of Wu-Tang Clan, Wyclef Jean and Alicia Keys. The band is currently touring the US and Europe, as well as composing the score for Fox's new series, Pitch, which will premiere Fall of 2016.
Wil and Kev place heavy emphasis on educational outreach, and have performed for more than 100,000 students in North America and Europe in the past 12 months, including the featured musical act for the Blue Ribbon Festival at the Music Center in Los Angeles, CA where they performed for 19,000 fifth grade students from the Greater Los Angeles area over a 3 day period. The band is endorsed by Yamaha Music, and has partnered with the National Association for Music Manufacturers (NAMM) to continue their advocacy for accessible music education.