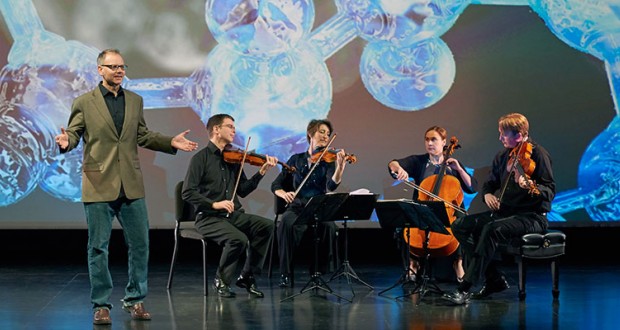 The Crossroads Project: Rising Tide
Art meets activism: music, science combine to combat climate change
Portlanders will have the chance to see a unique chamber music performance aimed at leaving the audience compelled to take action against climate change this October. Portland'5 Centers for the Arts along with Chamber Music Northwest will be presenting The Crossroads Project: Rising Tide, on October 15, 2015 at 7:30 p.m. at the Newmark Theatre.
The performance is the brainchild of Dr. Robert Davies, a physicist at Utah State University. Davies was presenting scientific lectures on climate change and sustainability issues and while the messages were getting across, he felt there was something missing.
"I tell you we are racing toward the cliff but you walk outside and it doesn't feel like it," Davies said. "I know I have a visceral experience when I listen to chamber music. My idea was to connect people with the information and unleash powerful music on it and see what it does."
Davies describes the Crossroads performance as "a poetic science lecture with compelling imagery," and beautiful chamber music.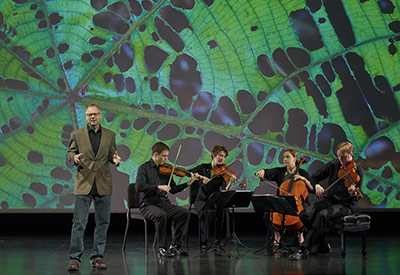 He tapped the Fry Street Quartet to provide the musical accompaniment for the presentation and composer Laura Kaminsky wrote a portion of the music.
Tom Sessa, director of booking, sales and marketing at Portland'5 Centers for the Arts said the Crossroads performance is very different from anything Portland'5 has done before.
"We all have knowledge that something is wrong with how we are behaving now," he said. "When I think of Portland, I think we are leaders in environmental issues and we can also be leaders in environmental change. I hope we can inspire some people with this show because it's not some talking head talking at you, it's images and music and that will elicit feelings."
Rebecca McFaul, a violinist with the Fry Street Quartet said she has long paid attention to issues of sustainability and climate.
"I wanted for my art form to somehow have a voice in this discussion," she said. "Having attended one of Dr. Davies' lectures, music seemed like a perfect addition."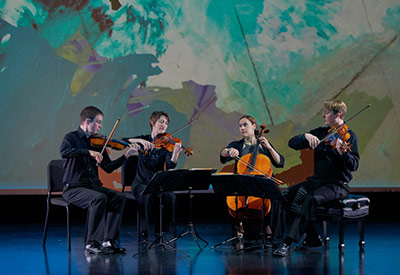 Davies has made climate science his life's work.
"What's holding us back is not the people who think we don't have these problems," he said. "What's holding us back is the people who know we have these problems but don't behave like it."
Davies said he hopes the performance leaves the audience poised to act.
"The end of the performance is intense. We hope people walk out and say I can't not do something," he said.
Audience members will have the opportunity to take action in the theater lobby where Metro will have a Let's Talk Trash trivia challenge with prizes to be awarded and a survey about the future of the region's trash.
"We hope to engage people in a conversation about choices we have for managing our garbage in the future," said Karen Blauer, Metro's senior public affairs specialist.
McFaul said the music lends a voice to the emotional side of environmental concerns, but in addition to the serious message, she said the music is worth coming out for.
"There is a triumph inside the performance," she said. "The music itself is gorgeous. It is just a gorgeous score. It glistens."
Tickets range from $36 to $26 and student tickets are $15. To purchase call 800-273-1530 or buy tickets online.