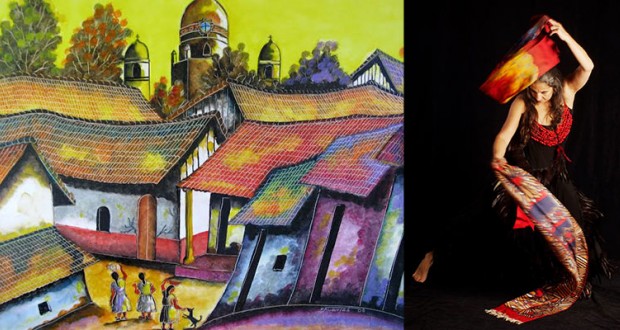 LAX IdeAL presents
LATINO ART EXHIBIT & PERFORMANCE SHOWCASE
September 3 - December 31, 2015
Art Exhibit on display through December (M-SA 10am-5pm)
Antoinette Hatfield Hall
LAX IdeAL is the Latino Artists eXchange / Intercambio de artistas Latinos, a community of creative individuals coming together at Milagro since 2010 to build a network, strengthen careers and nurture future artists.


This year, LAX IdeAL presents their second Latino Art Exhibit & Performance Showcase, with the participation of artists of Latino heritage representing six different nations. Live performances of music, singing and dance on Thursday, September 3rd, will launch a two-month-long art exhibit of painting, photography, sculpture and much more, at the Portland'5 Antoinette Hatfield Hall, where artists have found support and a venue to show their work since 2006. Antoinette Hatfield Hall is home to the Portland'5 Box Office, the ArtBar & Bistro, and the Newmark, Brunish and Winningstad Theatres.
September 3rd coincides with Portland's First Thursday; to celebrate, Portland'5 will host a reception where the public can meet and mingle with the artists. An evening to enjoy the work of some of the best Latino arts in Portland, discover new talents, and travel to Latin America thought art!


The genesis of LAX began in July, 2010, when Milagro invited artistic leaders representing a variety of disciplines to meet and share their advice, networks, and leadership, planting the seed for a collaborative group. Monthly meetings, workshops and annual conferences hosted by Milagro over the last five years have strengthened Oregon's vibrant artistic Latino community.


The Art Exhibit and Performance Showcase will be a unique celebration of the strength and beauty of the Latino artistic movement growing in the Pacific Northwest. This event is made possible with the support of Portland'5 Centers for the Arts, Milagro, Multnomah County Cultural Coalition, RACC/Work for Art and the Oregon Arts Commission.  

Without a doubt LAX IdeAL Art Exhibit & Performance Showcase on Thursday, September 3rd will be one of Portland's biggest Latino-focused art exhibits in recent years, adding to Portland's extraordinary cultural scene an authentic reason to be proud.
VISUAL ARTISTS
Christian Barrios (Mexico) – Marquetry 
Alejandro Ceballos (Mexico) – Painting
Victor Fuentes (Nicaragua) – Painting
Jesus Kobe (Mexico) – Painting
Elizabeth Leon (Chicana) – Photography
Monica Mackenzie (Mexico) – Painting
Julieth Maya (Colombia) – Painting
Pepe Moscoso (Mexico) – Photography
Jose Juan Parra (Mexico) – Turquoise masks
Luciana Proaño (Peru) – Glass sculpture
Elena Rendon (Mexico/El Salvador) – Painting
Jorge Rodriguez (Mexico) – Photography
Miguel Angel Sanchez (Mexico) – Painting
Blanca Santander (Peru) – Painting
Arturo Villaseñor (Mexico) – Sculpture
PERFORMING ARTISTS
Ballet Papalotl (Mexico) – Folkloric Dance
Claudia Cuentas (Mexico) – Ceremonial
Nuestro Canto (Mexico) – Indigenous Mexican music
Luciana Proaño (Peru) – Folkloric Dance & Poetry
Los Altos del Norte (various countries) – Latin Mix
DJ Andres
ABOUT LAX IDEAL
Since 2010 the group of Latino artists from Lax IdeAL is committed to supporting the growth of the Latino artistic movement in the Pacific Northwest with monthly meeting, workshops and annual showcases.
ABOUT MILAGRO 
For over 30 years, Milagro has been dedicated to bringing the vibrancy of Latino theatre to the Northwest community. In addition to its national tours, Milagro provides a home for Spanish and Latin American arts and culture at El Centro Milagro, where it enriches the local community with a variety of community outreach projects and educational programs designed to share the diversity of Latino culture. For more information about Milagro, visit: www.milagro.org or call 503-236-7253.