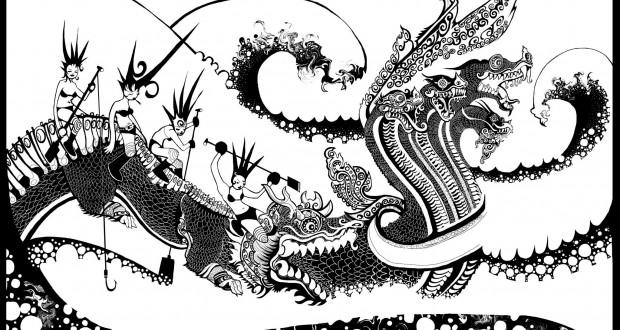 Fire on the Water: Dragon Boat Art Show
A Group Art Show inspired by the theme of Dragon Boating
First Thursday reception, June 4th: 5 - 8pm. FREE.
Antoinette Hatfield Hall. 1111 SW Broadway. Portland, OR 97205
Fire on the Water is a Unique Group Art Show inspired by the rich tradition of Dragon Boating in Portland. The purpose of this show is to highlight one of the most glorious spectacles of Rose Festival: The Dragon Boat Races - which are held the first weekend in June.
The Show will be on exhibit for the month of June in the rotunda of Antoinette Hatfield Hall, on the corner of SW Broadway and Main.
Show runs June 4th - June 30th.
Featured Artists: 
Alea Bone, Alec Steury, Ali Schlicting, Alison O'Donoghue, Amelia Opie, Amy McLain, Amy Stoner, Anna Magruder, Anjanette Petty-Kountz, Ashley Montague, Barbara Martin, Brett Superstar, Carey Salerno, Carol Berryhill, Carole Burton, Chayo Wilson, Christopher Creath, Chris Haberman, Chuck Bloom, Coleen McIntyre, Consu Tolosa, Cydney French, Diane Pinsonault, Felice Margiani, Fred Swan, Gabriel Liston, Heide Davis, Jaclyn Evalds, Jane Pellicciotto, Janet Julian, Jennifer Feeney, Jennifer Griffo, Jennifer Kapnek, Jennifer Rombach, Jesse Reno & Melissa Monroe, Jessica McGrath, Jo Grishman, Julia Skerry, Joanne Licardo, Karen Wippich, Karen Wu,Karl Kaiser, Kim Murton, Kimi Boylan, Korrin Renzulli, Kristen Hamilton, Lea Barozzi, Lea K. Tawd, Leni Pinsonault, Leslie Wood Kamman, Leslie Yates, Linda Rand, Linda Robertson, Mario Robert, Mary Tapogna, Matt Schlosky, Mayfair, Patrice Demmon, Patricia Gifford, Peggy Pfenninger, P.M. Shore, Robin Phillips Occhipinti, Roxanne Patruznick, Ryan Zachary, Samyak Yamauchi, Shelly Caldwell, Shu-Ju Wang, Stan Peterson, Stephanie Brockway, Suzanne Stewart, Suzanne Vaughan, Suzy LaRuffa, Sylvia Mann, Tim Combs, Zack Kosta
https://www.facebook.com/pages/Fire-on-the-Water-Dragon-Boat-Art-Show/862166793830492