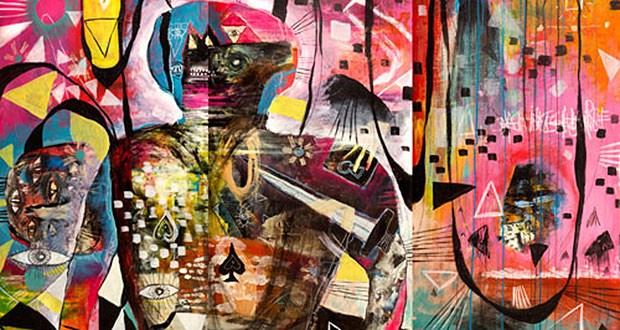 Jesse Reno: Just Beyond the Mountain will be on display in the Antoinette Hatfield Hall lobby through March 2017, with a First Thursday opening reception March 2, 2017 from 5pm to 8pm.
Jesse Reno is a self-taught mixed media painter. He has been drawing since he could hold a pencil, and painting and exhibiting his works since 2000. Jesse has amassed over 3000 paintings in the last 12 years, and has exhibited his work extensively across the US and Canada as well as France and Mexico. Jesse's work has been covered in various art publications including Juxtapoz, Artnews, Artension, dpi and Somerset Studio just to name a few. One of his largest works can be seen in Winnipeg, Canada where he was commissioned by the Province of Manitoba to create a 25 x 40 ft mural as a reminder to the cultural importance of the Native American people in the region.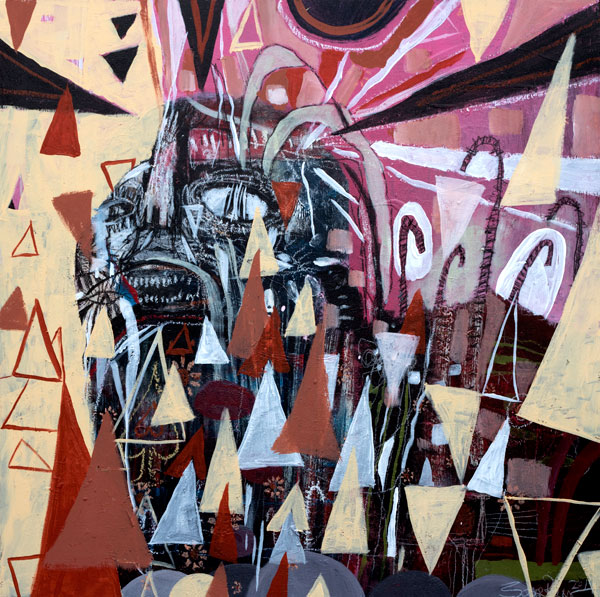 His latest works deal with the idea of fragments and the connection. Feeling rather than knowing. Choosing instinct over logic to achieve desire rather than defined outcomes. The chaos of volcanoes, the collapse of an avalanche, the weight of an anchor. The idea of buoyancy over balance. Some locks do not open with keys. This is a world where candy canes grow at the tops of mountains. Freedom comes from belief and choice, and all things are connected.
See more of Jesse Reno's work at jessereno.com.