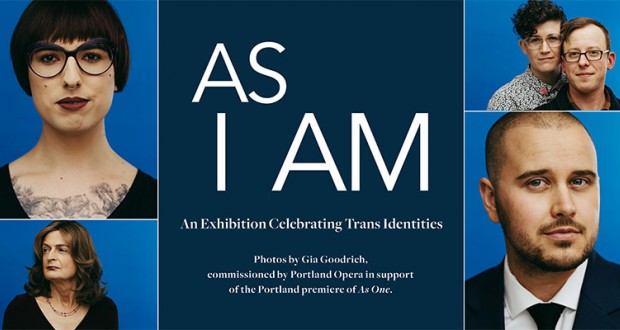 The opera As One tells the story of a transgender woman named Hannah, and her journey into adulthood. To celebrate the Portland premiere of this critically acclaimed piece, Portland Opera teamed up with award-winning photographer Gia Goodrich to commission a series of portraits and interviews featuring transgender members of Portland's community.


As One tells one story, Hannah's story, and this project was created to help celebrate additional stories and voices from transgender people in our community. The Portland Opera team is humbled by the generous and courageous volunteers who bravely shared their stories, energy, presence, and voices with us. We are honored to be able to share them here.


The gallery of portraits is available for public viewing in the rotunda of the Antoinette Hatfield Hall (located at 1111 SW Broadway Ave., Portland, OR 97205) beginning with an opening reception on Thursday, March 7. The gallery will be open to the public Monday-Saturday 10am-5pm, in addition to event nights/matinees through March 30. 

Free and open to the public.