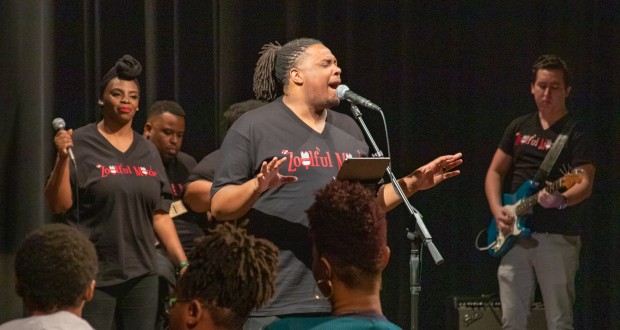 The Portland'5 Centers for the Arts education and community engagement program has been busy this past week, partnering with local musician Alonzo Chadwick and his band Zoulful Muzic to spread some holiday cheer in the community.
Then on Thursday morning, Zoulful Muzic set up at the Kandi Brewer Nunn Community Education Center in North Portland to perform a free concert for students from Portland Opportunities Industrialization Center (POIC)'s North campus and New Columbia campus. POIC provides services in education, mentoring, family outreach, employment training, and placement for at-risk youth through age 25 in the Portland area.

On Friday the 13th, Alonzo (sporting a pretty fabulous holiday sweater) taught the students at Kairos PDX several holiday songs in addition to "Lift Every Voice and Sing," otherwise known as the black national anthem. Through a playful call-and-response assembly, the students learned musical numbers they would go on to perform for their families and friends during their annual holiday concert.
The week of Zoulful cheer culminated Thursday evening at Self Enhancement Inc.'s (SEI) auditorium on North Kerby Avenue. Portland'5 provided tickets to a performance of "Zoulful Christmas" to over 300 individuals free of charge, through the outreach programs and several community-based organization partners.
This partnership with Zoulful Muzic is the latest effort in the Portland'5 education and community engagement program's mission to offer culturally-relevant education and outreach programming as part of its commitment to celebrate diversity and broaden access to the performing arts for people of all means, cultures, and ethnicities. To learn more, please visit the Portland'5 Education & Community Engagement section of our website.