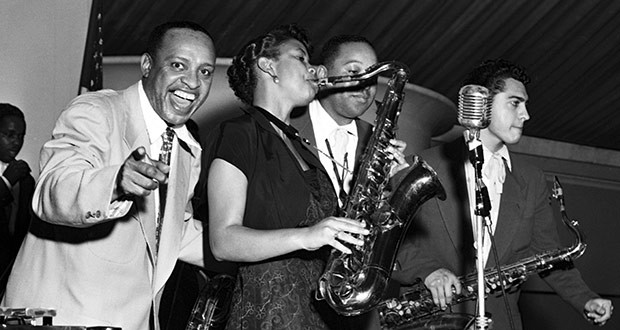 WE HAD JAZZ! ©2019
Showing February 2020 in the Antoinette Hatfield Hall Rotunda
Coincides with the 2020 Biamp PDX Jazz Festival
Available to view 10am to 5pm Monday through Saturday and during events
The photographs in this exhibit are the work of Portland photographer Carl Henniger. After WWII, Portland became a premier venue for touring jazz bands. Between 1951 and 1956, Carl moon-lighted part-time as a photographic stringer for Downbeat Magazine. He photographed all of the notable Jazz artists who played in Portland during this period. The photos in this exhibit document the transition from jazz bands to hip-hop combos at the close of the golden age of jazz in Portland.
Many of these pictures were taken a block north of City Hall at McElroy's Ballroom, now the site of The Portland Building. The Ballroom was integrated as early as 1930 thanks to "Pop" McElroy's efforts to break down the barriers of segregation. Other venues included the Portland Civic Auditorium, the Jantzen Beach Ballroom, Amato's Supper Club, McClendon's, The Dude Ranch, Jackie's, and the Uptown Ballroom.
When the show was over, many of the black musicians traveled to night clubs and hot spots along Williams Avenue in the Albina neighborhood to jam with the locals and exchange musical ideas. They spent the night on the east side as well because downtown hotels were still segregated in the '50s. This golden era ended in 1956 when the I-5 freeway was built and urban renewal took land for the Memorial Coliseum. By 1957 Portland's neighborhood of black culture and entrepreneurship was gone.
This archive includes 385 images. It is an important link to black history in Portland and an intimate portrait of the greatest names in jazz that performed here.
WE HAD JAZZ! ©2019
On display February 2020 in the Antoinette Hatfield Hall Rotunda
(1111 SW Broadway Ave.—at Main Street)
Available to view 10am to 5pm Monday–Saturday and during events
Exhibit includes images of Charlie Ventura, Lionel Hampton and Rosetta Perry, Louis Armstrong, Ella Fitzgerald, Dizzy Gillespie and Count Basie, Eroll Garner, John Coltrane, and more.