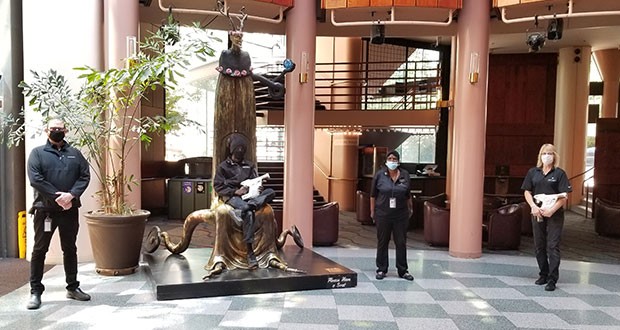 Portland'5 Centers for the Arts leads the performing arts world as one of the first performing arts centers (PAC) to pursue Global Biorisk Advisory Council® (GBAC) STAR™ accreditation, the gold standard for prepared facilities. Under the guidance of GBAC, a Division of ISSA, the worldwide cleaning industry association, Portland'5 will implement the most stringent protocols for cleaning, disinfection and infectious disease prevention at the Arlene Schnitzer Concert Hall, Keller Auditorium, and the Brunish, Winningstad and Newmark Theatres in Antoinette Hatfield Hall.
GBAC STAR™ helps organizations establish protocols and procedures, offers expert-led training and assesses a facility's readiness for biorisk situations. The program will verify that Portland'5 Centers for the Arts implements best practices to prepare for, respond to and recover from outbreaks and pandemics. The work that Portland'5 is doing with other performing arts venues around the country will become the standard for bio cleaning in arts venues. In fact, the work done by Portland'5 will create the template that all performing arts centers will use in their accreditation process.
Portland'5 Centers for the Arts provides approximately 1,000 cultural events annually, provides cultural experiences for over 14,000 Title-1 students and teachers at zero cost to the schools, and is home to five resident organizations—Oregon Symphony, Portland Opera, Oregon Ballet Theatre, Oregon Children's Theatre, and Portland Youth Philharmonic—that rely on these facilities. 
"When we can safely reopen, Portland'5 will return to our core mission providing a space to celebrate culture, inspire youth, and showcase diverse artists which appeal to and reflect the region's diverse communities. And, this accreditation means we will do all of that while keeping our staff, clients and guests safe and healthy," said Robyn Williams, executive director. 
Portland'5 Centers for the Arts is operated by Metro, a regional government. The buildings are owned by the city of Portland. The Portland'5 education program is the largest in the region, serving 14,000 Title-1 students covering 100% of the transportation, curriculum, and lunches with diverse artists and community members. Programming is taken to surrounding Title-I schools from Hillsboro to Gresham, reducing transportation barriers in order to support schools outside of the urban core. This accreditation will allow the education program to resume, keeping kids safe while enjoying the arts. 
"GBAC STAR accreditation empowers facility owners and managers to assure workers, customers and key stakeholders that they have proven systems in place to maintain clean and healthy environments," said GBAC executive director Patricia Olinger. "By taking this important step to pursue GBAC STAR, Portland'5 will receive third-party validation that it follows strict protocols for biorisk situations, thereby demonstrating its preparedness and commitment to operating safely." 
The theaters will be kept safe by Certified Microbial Warriors who have completed extensive trainings in biorisk safety. Paul Scherzinger, operations manager and utility leads, Benhard Wandugu, Melody Isom, and Brenda Stovall, completed these trainings and provided support to venues' operations staff at the Oregon Convention Center and Portland Expo Center. All three facilities are exploring accreditation by September 2020. To achieve GBAC STAR™ accreditation, Portland'5 will demonstrate compliance with the program's 20 core elements, which range from standard operating procedures and risk assessment strategies to personal protective equipment and emergency preparedness and response measures.
Photo: Portland'5 Certified Microbial Warriors in the lobby of Antoinette Hatfield Hall. Left to right: Paul Scherzinger, operations manager and utility leads, Benhard Wandugu, Melody Isom, and Brenda Stovall.
About GBAC, a Division of ISSA
Composed of international leaders in the field of microbial-pathogenic threat analysis, mitigation, response and recovery, the Global Biorisk Advisory Council (GBAC), a Division of ISSA, provides training, guidance, accreditation, certification, crisis management assistance and leadership to government, commercial and private entities looking to mitigate, quickly address and/or recover from biological threats and real-time crises. The organization's services include biorisk management program assessment and training, Forensic Restoration® response and remediation, the GBAC STAR™ facility accreditation program, training and certification of individuals and consulting for building owners and facility managers. Learn more about GBAC STAR accreditation at www.gbac.org.