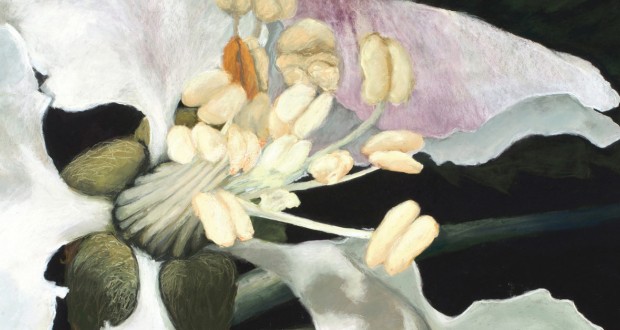 All are welcome to the in-person reception for the OSU College of Agricultural Sciences, Art About Agriculture Competition and Touring Exhibition 2023's visit to Antoinette Hatfield Hall (1111 SW Broadway, Portland, OR) on Friday, November 17, 2023 from 5pm to 7:30pm.
The 2023 Art About Agriculture Competition and Touring Exhibition is on display for public viewing in the Hatfield Hall lobby from November 17–December 31, 2023. Viewing is open to the public Tuesday through Friday from 10am to 6pm, and available to view for those attending events in Hatfield Hall prior to their event.
Art About Agriculture is celebrating 40 years! THANK YOU to all artists, venues, and patrons who have made this milestone possible. We are honored to present this year's 60 jury-selected artworks from artists representing 20 counties throughout Oregon, Washington, and Idaho. The tour began at Giustina Gallery in Corvallis and traveled to the wonderful Rogue Gallery & Art Center in Medford. Thank you, Portland'5 for hosting the grand finale to an extraordinary year.
Established in 1983, Art About Agriculture is a STEAM education program (Science, Technology, Engineering, Art, and Math) that has inspired countless artists throughout the Pacific Northwest to consider food, fiber, and natural resources in their creative practices. Founded on the idea that art can promote agricultural awareness and appreciation, the Art About Agriculture Permanent Collection can be found on display in public spaces throughout the state. For more information about the Art About Agriculture 2023 program, please visit beav.es/S8V.
Oregon State University is one of only two universities in the country with Land-, Sea-, Space-, and Sun-Grant designations, and is a world-class leader in agricultural, environmental, and life sciences.
As the founding College of OSU, the College of Agricultural Sciences is dedicated to serving all Oregonians, embracing differences to find common ground, and encouraging diverse points of view. For 40 years, the College has invested in visual arts as an important part of its mission, committed each day to make tomorrow better—for everyone.
Jurors: Bets Cole, Shelley Curtis, Peg Herring, Bill Marshall, and Conrad J. (Bud) Weiser.
Featured artwork: Britt Block, What a Bee Sees: Apple Blossom, 2022. Pastel on Paper, 54" x 45" (detail).