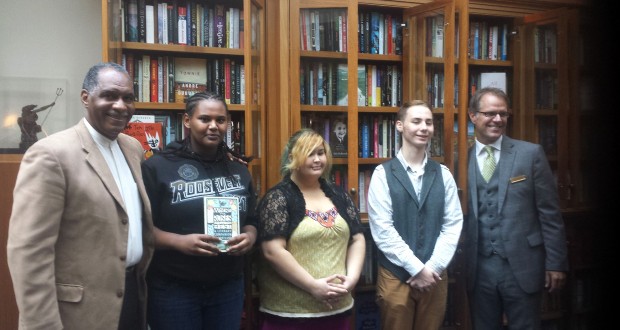 A North Portland high school publishing program championed by Portland'5 Centers for the Arts and board members of the Metropolitan Exposition and Recreation Commission (MERC) has been given a major boost by the Heathman Hotel in downtown Portland.
The luxury boutique hotel announced that it has purchased copies of a new anthology published by the program, "Where the Roses Smell Best: A Literary Companion to Portland," for sale to visitors in every room of the hotel. The publication, produced by Roosevelt High School's Writing and Publishing Center, is an expansive anthology that includes pieces on Portland lifestyles, people and places written by both Roosevelt students and prominent local writers such as Oregon's poet laureate Paulann Petersen and Oregonian newspaper columnist Steve Duin.
The anthology is the first of its kind created by the publishing center and has received attention and critical acclaim by Portland's media and community of writers. Proceeds from sales of the book at the Heathman will go to fund the publishing center and its mission.
"We approached the Heathman initially," says Kate McPherson, a teacher instrumental in launching the publishing program. "We wanted to align the mission of the hotel with the school, and that cross-section happened to be around literary arts and literacy. The Heathman has a tradition of embracing books and literature -- they have a great library. So when we talked with them and shared our vision, they saw a connection."
"When Kate contacted me and I thought, 'here is an opportunity for us to do something special," says Chris Erickson, the Heathman's general manager and a MERC board member.
Erickson says selling the book also fits in with the hotel's long literary tradition. Visiting writers have frequently stayed at the hotel, particularly those speaking at the Arlene Schnitzer Concert Hall as part of Literary Arts' popular Portland Arts & Lecture series. One of the hotel's four signature suites is even named the Literary Arts Suite, homage to Oregon's literary tradition and the lecture series that brings esteemed writers to Portland.
Portland'5 Centers for the Arts is operated by the Metro regional government through MERC. Both organizations have deep connections to Roosevelt High School and its emerging publishing center.
Staff at Portland'5 has donated time and advice to Roosevelt theater students and staff, including helping to make some repairs at the school's theatrical stage facilities.
The arts center has also hosted writers from the North Portland high school as part of its free "Poetry on Broadway" series, a partnership with The Attic Institute that pairs nationally-renowned poets and locally emerging writers at readings held at the Antoinette Hatfield Hall Rotunda. Two student poets from Roosevelt read their work at a recent October event, which featured both Petersen and Portland poet Zack Schomburg. The five-part series continues through May 2014.
"We want to be Portland's 'center for the arts' but we don't want to do it by just sitting in the downtown area," says Robyn Williams, Portland'5's executive director. "We don't have a lot of money, either. So this is about leveraging relationships."
MERC board member Ray Leary has had perhaps the deepest personal relationship to the North Portland high school as a volunteer and mentor to students over many years. It was Leary, Erickson says, who introduced him to Roosevelt.
"I've spoken a few times to students there because of Ray," Erickson says. "I didn't realize I'd be touched so much from the connections I made."
The Heathman eventually hosted the book's publication party and welcomed the anthology into the hotel's well-known library after it was published.
"Watching the transformation in these kids when they try new things and meet different people is my reward," says Ray Leary. "Robyn and Chris have provided the access and ideas to inspire them to think broader about what is possible in the future." He adds, "For that, I'm grateful."
Roosevelt's publishing center started two summers ago using some funds from a federal grant. The center then teamed with Portland State University's Ooligan Press to help pay for publishing expenses and provide mentorship and leadership.
The center's next project is scheduled to be published next year and is a book about race and identity. The center is actively looking for submissions for that publication.
About Portland'5 Centers for the Arts
Portland'5 Centers for the Arts is a leader in expert venue management, overseeing the Arlene Schnitzer Concert Hall, Keller Auditorium and Antoinette Hatfield Hall, which includes the Brunish, Newmark and Dolores Winningstad Theatres.
Home to arts organizations such as Oregon Ballet Theatre, Oregon Symphony Orchestra and Portland Opera, it is the 5th largest performing arts center in the U.S. and generates an average of $60 million in regional spending through its operations.
Portland'5 is operated by Metro and managed through the Metropolitan Exposition and Recreation Commission (MERC).