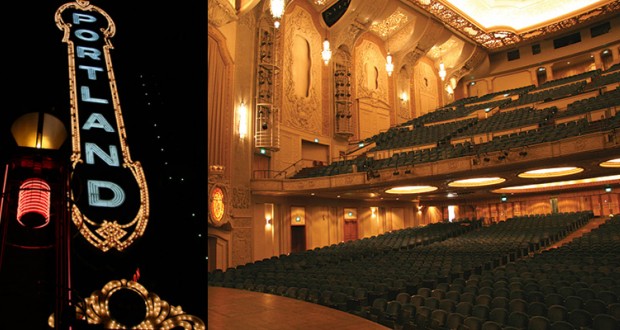 The Portland'5 Centers for the Arts venues are not among the biggest nationally in terms of size, but they're competing with them nonetheless.
Recently, the national trade magazine Venues Today announced the top ranked venues in North America based on gross ticket sales. Three Portland'5 venues – Keller Auditorium, Arlene Schnitzer Concert Hall and the Newmark Theatre – made the list alongside some of the most famous or bigger venues in the country, including Radio City Music Hall in New York, MetLife Stadium in New Jersey, Fox Theatre in Atlanta, and Staples Center in Los Angeles. In fact, Portland'5 venues received more rankings than any other venue or group of venues from the Northwest.
Keller Auditorium and Arlene Schnitzer Concert Hall, for instance, were listed as No. 55 and 65, respectively, in the rankings for the Top 100 venues in North America, regardless of size. The same two venues were ranked No. 12 and 15, respectively, for venues with seating capacities between 2001-5,000. The Newmark Theatre was ranked No. 16 for venues with a seating capacity of 2,000 or less.
All rankings were based on gross ticket sales for the period between Oct. 16, 2012 and Oct. 15, 2013.  Venues are responsible for participating in the process by sending their comprehensive sales and attendance figures to Venues Today throughout the year-long period.
The results are a major accomplishment for Portland'5 venues and can only help boost their standing in the venues world, says Portland'5 executive director Robyn Williams.
"It sends a message to commercial promoters about how well we're doing," Williams says. "We think it makes us look attractive in the eyes of commercial promoters. It catches people's eyes."
Venues Today editor-in-chief Linda Deckard says Portland'5's impressive rankings show the degree to which local residents are committed to culture in the simplest terms: They're willing to spend hard earned cash on ticket purchases.
Deckard also believes the rankings tell a story about the health of Portland'5 venues.
"Ticket sales are the primary revenue source for artists and acts, a major revenue stream for venues and facilities," says Deckard. "Strong tickets sales are also indicative of other ancillary revenue streams like concessions and parking, as well as a strong indicator of community support for a facility."
Venues Today is considered one of the most authoritative publications in the venues industry – the industry "bible." Few publications cover public assembly venues as comprehensively. Even less trade publications report on how venues are doing both financially and in terms of attendance. Because of its reputation, when the magazine reports on something, the story usually has an impact within the industry.
Portland'5 venues, including the Keller, Schnitzer and Newmark, have shown up consistently in Venues Today rankings over the years. But based on the competition, this year's showing may have been the most impressive.
In the Top 100 rankings category, the Keller and Schnitzer venues, which have seating capacities of under 3,000, competed against stadium-sized venues in large market cities, including the United Center in Chicago and the Caesars Palace Colosseum in Las Vegas. The two Portland venues even did well enough to finish ahead of the 18,000-seat AT&T Center in San Antonio, the 46,000-seat Ford Field in Detroit, and the 21,000-seat Scottrade Center in St. Louis.
In finishing No. 16 for venues with a seating capacity of 2,000 or fewer, the Newmark was one of just two venues in that category with a seating capacity of under 1,000.
Executive director Williams says the rankings will provide further motivation for Portland'5 staff, which have been buoyed by the latest rankings.
"This says we're busy," says Williams. "If you're not busy, you're not selling tickets. But it's just one piece of who we are in the market. We won't rest on our laurels."