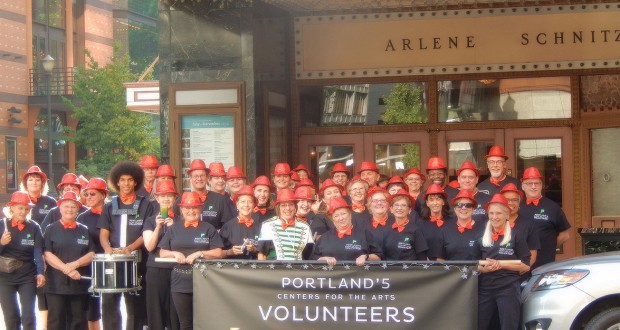 Photo: A band of Portland'5 volunteers prepares to join the 2014 PGE/SOLVE Starlight Parade. Photo courtesy of Margie Humphreys.
Fall has arrived at Portland'5 Centers for the Arts. That means a new season of shows at the city's most renowned performing arts venues.
It's also an opportunity to thank a group of stellar individuals crucial to the visitor experience at the Portland'5 venues:  Volunteers.
"Volunteers are the unsung heroes of the Portland'5," says Portland'5 executive director Robyn Williams. "The hours they donate to us as ushers, greeters, gift shop attendees, tour guides and reception desk attendants help keep costs down for Portland'5 and our arts organizations so our limited resources can be better utilized. They also love Portland'5 – so what better face to show the public than our volunteers!"
Every season, new volunteers are welcomed in order to help fill out the Portland'5's volunteer corps that regularly hovers between 500 and 700 people. These volunteers undergo extensive training – customer service procedures, safety and evacuation drills, ticket reading, and more. Each job is crucial to the visitor experience at the Portland'5 venues, which include Arlene Schnitzer Concert Hall, Winningstad Theatre, Keller Auditorium, and the Newmark and Brunish Theatres.
"The program," says Portland'5 volunteer coordinator Margie Humphreys, "requires discipline: Volunteers must commit to two shifts a month annually. A volunteer council provides a voice for the volunteers and acts as a liaison to Portland'5 management."
Volunteers aren't rewarded financially. They don't get paid. They don't get "freebies," though ushers usually get to watch the event they are working for free.
Instead, for the volunteers, the joy is being part of a community, the satisfaction of knowing they represent the state's premier performance venue and are helping Portland'5 and the organizations performing there to save money.
Portland'5 volunteer ushers help save performing arts institutions money for their productions by serving as ushers in the Winningstad, Newmark and Brunish Theatres.
Similarly, volunteers acting as office assistants and receptionists save Portland'5 money – no small thing at a time when nonprofits must find ways to economize personnel and staffing.
Humphreys has been with Portland'5 for 27 years. In fact, she started the volunteer program.
She first volunteered at the Arlene Schnitzer Concert Hall in 1984 as a member of the Junior League giving tours of the newly renovated Hall.  Three years later, because of her experience with volunteers, she was hired on staff to oversee volunteers. The rest, as they say, is history.
Humphreys has managed and cultivated Portland'5 volunteers for those 27 years. On average the tenure of Portland'5 volunteers is long with many earning their 5, 10, 15 and 20 year service pins. When asked in an annual survey to describe in one word how they feel about volunteering for Portland'5, the top three answers were: "rewarding," "useful," and "happy."
Humphreys says most volunteers are retirees though there is a broad cross-section of ages.   Portland'5 recruits volunteers through social media like Facebook and through the Portland'5 website. But the most successful recruitment tool is analog.
"The marquee at the Schnitzer Concert Hall," she says. "Everyone sees that signage."
Find out more about how to volunteer at Portland'5 Centers for the Arts.