Arlene Schnitzer Concert Hall
Alton Brown Live: Beyond the Eats
UPDATED COVID-19 ATTENDANCE POLICY
All ticket holders, regardless of age, are required to show proof of full COVID vaccination or a negative test result (within 72 hours) from a healthcare provider for entry into the theatre. "Fully vaccinated" means that ticket holders have received their final vaccination dose of either the two-dose regimen of the Pfizer or Moderna vaccines or one dose of Johnson & Johnson at least 14 days before your performance date. Be sure to have your ID with you as well.
Also, in accordance with state and local guidelines, face masks are required for entry. Masks must completely cover nose and mouth. Gaiters and bandanas are not acceptable. If wearing a face mask that does not comply with Metro policy, Portland'5 will provide a face mask for patrons. Masks must be worn at all times except while eating or drinking for brief periods. Prolonged periods of mask removal are not permitted for eating or drinking – masks must be worn between bites and sips.
This policy is subject to change.
---
Alton Brown is hitting the road with a new culinary variety show. Audiences can expect more comedy, more music, more highly unusual cooking demos, and more potentially dangerous sciencey stuff. Prepare for an evening unlike any other and if Brown calls for volunteers… think twice.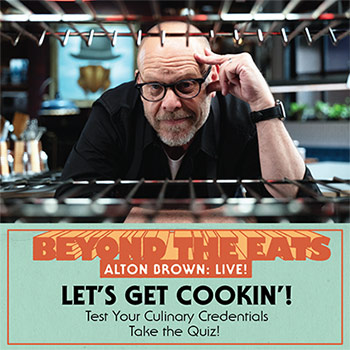 Alton Brown is going to need volunteers for his live stage show, Beyond The Eats. Usually, he picks at random but this time it's a bit different and he needs folks who are really knowledgeable, as in they've spent a considerable fraction of their life absorbing Good Eats episodes. Think you qualify? Visit Quiz.AltonBrownLive.com and see how you measure up. You just might be called up to take part in the show. Good Luck!
VIP Experience tickets are sold out!
VIP Experience FAQ
What is the VIP Experience?
Fans who purchase the VIP Experience will be invited to attend an intimate Q&A session. Also, VIP's will be given first access to purchase tour merchandise and will receive a VIP laminate when they enter the theatre. VIP Experience is limited to 100 people.
Where will I pick up my VIP tickets?
VIP tickets will ONLY be held at the venue box-office window or lobby for pick-up. Your VIP Experience is Non-Transferable. Please bring a PHOTO ID matching the PURCHASER OR ATTENDEE NAME on your order.
When do VIP ticket holders get to enter the venue?
VIP Ticket holders will enter the sound check/VIP Experience at 5:30pm. Please make sure that you arrive in plenty of time for your VIP Experience. We ask that you arrive 30 minutes prior to the start of the VIP experience. The Venue requires proof of Covid-19 Vaccination or a Covid negative test taken within 72 hours of the show with a valid Photo ID. This applies to all ages. Masks will also be required to be worn.
How long does the VIP Experience last?
The experience will last between 15-30 minutes.
Do VIP ticket holders get preferred seating?
By purchasing a VIP ticket, you will be purchasing one of the best seats in the house!
Will Alton Brown be taking pictures/signing autographs during the VIP Experience?
No, Mr. Brown is not scheduled to do any photos or autograph sessions. However, photos will be allowed during the Q&A. Video is strictly prohibited.
Arlene Schnitzer Concert Hall :

Upcoming Events