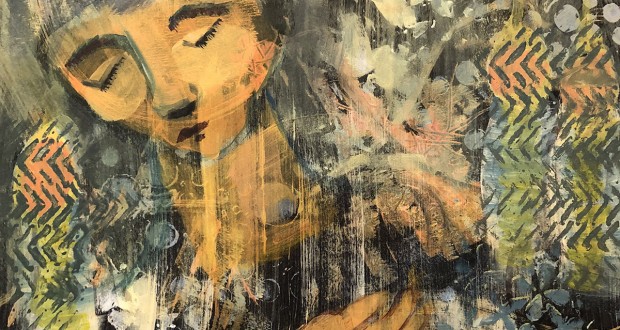 Featured image: "Holding On, Letting Go" acrylic on wood, 11"x14" by Sharon Jonquil
Peace of My HeART
A new juried show of 35 artists hosted by Portland'5 Centers for the Arts opens this March. "Peace of My HeART" is a benefit for, and organized by, local nonprofit CraneAge. Join us for an opening night reception with the artists on Thursday, March 5th from 5:00-8:00pm in the rotunda of Antoinette Hatfield Hall: 1111 SW Broadway.
Local artists who support CraneAge pour their hearts into their work to help families be with their children during critical care in five Portland area hospitals.
CraneAge's fund comes from direct donation, merchandise sales, and local events. Then CraneAge provides gift cards for fuel, food, and lodging which are then distributed by Child Life, Inc. partners at five Portland hospitals. 100% of donations to CraneAge help them help familes.
"Peace of My HeART" will be on display through the month of March and open to the public Mondays through Saturdays from 10:00am to 5:00pm, as well as prior to events in the Newmark Theatre, Winningstad Theatre, and Brunish Theatre.
For more information, visit www.craneage.org.
"Love Memory" acrylic, 20"x30" by Anjanette Petty-Kountz.
"Cloud Nine" mixed media, 24"x24" by Samyak Yamauchi.
"Mystical Orchard" monotype, 13"x16" by Jenn Feeney.