Photo: Aaron Robinson
Empowerment is the Passage to Freedom
Antoinette Hatfield Hall rotunda
1111 SW Broadway Ave., Portland, OR 97205
Monday through Saturday 10:00am to 5:00pm and prior to events through the month of May.
First Thursday opening artist reception:
Thursday, May 2: 5:00-8:00pm
RSVP at our Facebook event: https://www.facebook.com/events/2232715176815359/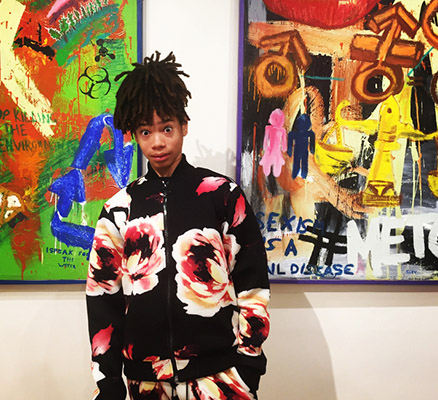 Portland'5 Centers for the Arts is proud to feature Portland artist Hobbs Waters in a new exhibit, Empowerment is the Passage to Freedom. Not only is Hobbs the youngest artist ever to be featured by Portland'5 Centers for the Arts, he is one busy twelve-year-old.
Hobbs is a dedicated dancer, having recently been accepted to—and receiving full merit scholarships for—both the San Francisco Ballet's summer dance intensive training and the Kaleidoscope Dance Theatre's 28th Annual New York Dance Festival. His primary focus is ballet, but he also studies contemporary, fusion, modern and jazz styles. Earlier this year, he attended the International Association of Blacks in Dance conference in Dallas.
Waters also flexes his artistic muscles in a number of other disciplines: cello, trumpet, and a variety of visual mediums. In the last year alone, he has exhibited work at The Q Center, Milieu PDX, Tiny Moreso, Basic Space Gallery, and Luke's Frame Shop, among others. He also started his own t-shirt line at www.citytroll.com to help fund his continuing dance education.
He has been featured in Oregon ArtsWatch, The Skanner, Willamette Week, and Portland Tribune.
Empowerment is the Passage to Freedom contains a breadth of mixed-media works from abstract painting to pen and ink illustration that follow and expand upon the social justice themes in Waters' previous exhibits, with the goal of embracing differences and representing and celebrating diversity.
An opening reception will be held during First Thursday, May 2, 2019 from 5:00-8:00pm with live performance and refreshments in the rotunda of Antoinette Hatfield Hall. Art exhibits and opening receptions are always free and open to the public. All are welcome.