AN IMPORTANT ANNOUNCEMENT ABOUT WHITE BIRD'S 2020-21 SEASON
Co-Founders Walter Jaffe and Paul King, with the agreement of the White Bird Board, regret to announce that there will not be a 2020-21 season of October-May dance performances.
This is disappointing, but the reasons are as follows:
Due to the Coronavirus, Governor Kate Brown has announced that no large gatherings of 50 or more will be allowed indoors until at least an effective treatment or vaccine is developed. Click HERE for the three Phases of Governor Brown's reopening guidelines.
Also, as a responsible presenter of contemporary dance from around the world, White Bird cannot ask any dance company to rehearse, prepare for touring, board flights and then perform for us until there is a treatment or vaccine. According to Jaffe and King, "The health of our audiences, performers, theater staff and stage crew is of paramount importance to us."
However, the Co-Founders have stressed that White Bird is not going away but scaling down its operations and activities during the coming season. The 23-year old dance presenting organization plans to stay relevant by posting dance videos, especially by artists of color, and engaging in online conversations about how dance is addressing today's most pressing issue of systemic racism.
In recent months, White Bird has taken a strong stance against social injustice. According to its Equity Statement, posted on its website, "White Bird believes in the transformative power of movement and its capability to uplift, inspire and unite."
Founded in 1997 by Walter Jaffe and Paul King in Portland, Oregon, White Bird is dedicated to presenting the best contemporary dance from around the world. Its mission is to make dance exciting, educational and accessible to everyone, of all social, racial and economic backgrounds. In its 23-year history, White Bird has presented 260 companies from around the world, commissioned 39 dance works, and served more than 3,000 students annually from the region through its annual Outreach Project with Portland Public Schools and other educational programs.
White Bird receives major funding from the Regional Arts & Culture Council, including support from the City of Portland, Multnomah County and the Arts Education & Access Fund; James F. and Marion L. Miller Foundation, National Endowment for the Arts, Ronni Lacroute, Oregon Arts Commission, and Starseed Foundation.
Email us with questions or call: 503-245-1600 Ext. 201
Support White Bird with a donation!
---
Dedicated to Excellence in Dance, White Bird is committed to bringing the best Portland-based, regional, national, and international dance companies to Portland, Oregon and to fostering the growth of dance in the region. Through presenting established and emerging companies and choreographers, commissioning and co-commissioning new work, as well as collaborating with other arts organizations in Portland and the region, we are able to make these dance performances possible.  White Bird strongly believes in making dance exciting, educational, and accessible to everyone, young and old, of all social backgrounds, and through contributed income and sponsorships, is able to facilitate outreach to schools and keep ticket prices affordable. A passionate advocate for dance, White Bird strives to broaden audiences, develop new dance venues, and support both existing and new dance programs.
22 YEARS OF DANCE, COMMUNITY PARTNERSHIPS AND ARTISTIC COLLABORATION
250 dance companies presented
37 new works commissioned
500 students reached annually
Walter Jaffe and Paul King launched White Bird in July 1997 as a 501(c)(3) not-for-profit organization dedicated to bringing excellence in dance to Portland, Oregon. Their cockatoo Barney, the 'CEO' and namesake of the organization, keeps things lively, and is over 30 years old.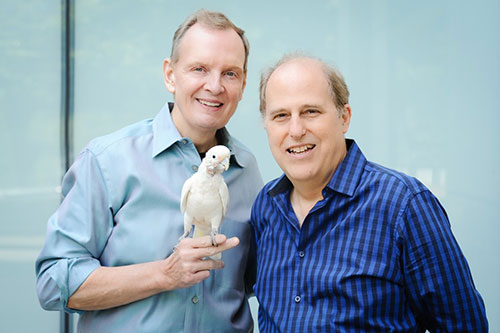 Paul King, Walter Jaffe and Barney, the White Bird. Photo by Jennifer Alyse.
As the sole dance-only presenter west of the Rockies in the U.S., White Bird brings the world's best contemporary dance to Portland, Oregon. In our 22nd season, 2019-20, we will journey around the world celebrating great diversity in movement. This will be a season to celebrate different cultures, women, and artists of color. A season of diverse movement ranging from modern dance to hip-hop to circus acrobatics. This year, we celebrate all that dance can be!