Dedicated to Excellence in Dance, White Bird is committed to bringing the best Portland-based, regional, national, and international dance companies to Portland, Oregon and to fostering the growth of dance in the region. Through presenting established and emerging companies and choreographers, commissioning and co-commissioning new work, as well as collaborating with other arts organizations in Portland and the region, we are able to make these dance performances possible.  White Bird strongly believes in making dance exciting, educational, and accessible to everyone, young and old, of all social backgrounds, and through contributed income and sponsorships, is able to facilitate outreach to schools and keep ticket prices affordable. A passionate advocate for dance, White Bird strives to broaden audiences, develop new dance venues, and support both existing and new dance programs.
22 YEARS OF DANCE, COMMUNITY PARTNERSHIPS AND ARTISTIC COLLABORATION
250 dance companies presented
37 new works commissioned
500 students reached annually
Walter Jaffe and Paul King launched White Bird in July 1997 as a 501(c)(3) not-for-profit organization dedicated to bringing excellence in dance to Portland, Oregon. Their cockatoo Barney, the 'CEO' and namesake of the organization, keeps things lively, and is over 30 years old.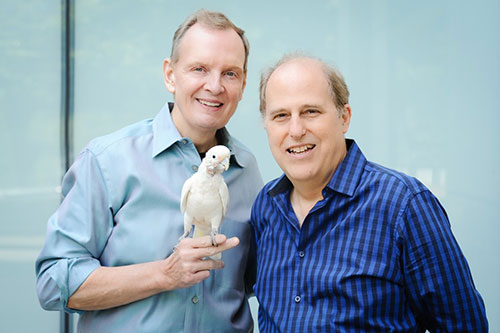 Paul King, Walter Jaffe and Barney, the White Bird. Photo by Jennifer Alyse.
As the sole dance-only presenter west of the Rockies in the U.S., White Bird brings the world's best contemporary dance to Portland, Oregon. In our 22nd season, 2019-20, we will journey around the world celebrating great diversity in movement. This will be a season to celebrate different cultures, women, and artists of color. A season of diverse movement ranging from modern dance to hip-hop to circus acrobatics. This year, we celebrate all that dance can be!